Founded in 1955 and 100% Dependably Canadian®
,
Unica Insurance (Unica) is a subsidiary of La Capitale General Insurance, one of the largest property & casualty insurers in Canada. From our office in Mississauga, Ontario, Unica offers innovative insurance solutions to protect consumers' homes, cars and businesses through a network of professional insurance brokers across Ontario.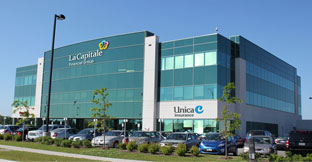 At Unica, we help you safeguard your hard-earned assets whether at home, work, or play. We share your expectations of quality and service, and we believe in the value our broker partners bring to meet these expectations. We are committed to working with brokers to preserve and strengthen their role in the distribution of property & casualty insurance products in Canada. Unica is committed to the Canadian market and broker partners, and to providing insurance products and services that our customers can depend upon. We believe in the importance of keeping Canada at the forefront of the insurance industry and do our part to bring a greater awareness to Canada's strengths and capabilities.
Committed to excellence, Unica stands behind our Canadian brand and is driven by values that advocate people first: integrity, transparency, a customer-centric approach, empathy, and entrepreneurship.
This is what differentiates us from other insurance companies,
making us a Dependably Canadian® insurer of choice